The Romantic Saxophone – In The Mood For Love?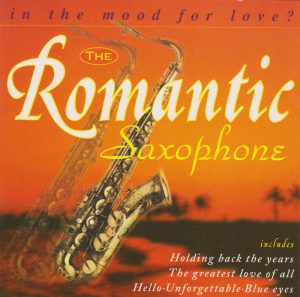 Release Name: The Romantic Saxophone – In The Mood for Love?
Release Year: 1996
Identifiers: PLATCD 192 (Prism Leisure)
Format: CD
Country of Release: United Kingdom
Genre(s): Easy Listening
I try and avoid uploading budget label stuff to this section, the stuff from the likes of Prism and Hallmark, it just feels like cheating. Notorious for putting out whatever they can fit on to a tape or CD (and later a DVD), Prism have created probably hundreds of (currently) undocumented instrumental CD's with strange themes.
No performer listed here, probably is a session player as I think 1996 is a bit too early and Prism are a bit too cheap to employ a computer to play this music – but who knows. The music is OK. I mean it's instrumental covers of popular songs, with the main instrument being a saxophone… a particularly romantic saxophone however. (Are saxophone's sexy? Is always the question I ask myself when I come across a release like this).
If I was more talented, and had more drive than simply writing about pointless, valueless crap on the internet I would probably spend some time to make some killer vaporwave with this album. Maybe someone else could do it?
3/5, mall music.
Audio Player