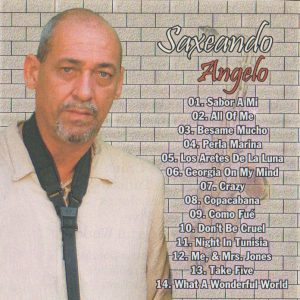 Release Name: Angelo – Saxeando
Release Year: 2010
Identifiers: none
Format: CDr
Country of Release: A latin country (?)
Genre(s): Latin Pop, Jazz pop, Saxophone music, Instrumental
I think there are possibly hundreds of albums out there like Angelo's. The man clearly loves his saxophone, so enjoy 14 tracks of him playing the instrument over cheap karaoke backing tracks.
I'm unsure about this releases origin, I would guess it is from abroad however it could have easily been bought in the UK from a street performer (busker).
My rating of this is a solid 3/5. It is so middle of the road it might as well be road markings. This music is definitely something I would put on in the background if I owned a mall.
Audio Player