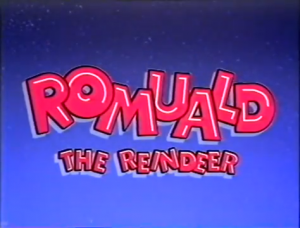 Romuald The Reindeer was a short-lived British animated cartoon series produced by Siriol Productions and La Fabrique in association with EVA Entertainment. The show was broadcast on the BBC in the CBBC programming block. The original release date for the series was 24th September 1996 through to the 20th December 1996 – just under 3 months. In this 3 month period 13 episodes were broadcast (see below) all with a run-time of around 10 minutes.
The synopsis for the programme from Wikipedia is as follows:
The series takes place in Reindeersville, Lapland, a community of Christmas reindeer. The reindeer populace can all fly, and use their antlers like hands, playing instruments, picking up phones, etc. The focus is on Romuald Haroldson, a sullen teen reindeer, and his misadventures.
Editor's Comments
I kind of recall seeing this programme on TV. Although I doubt I would have seen it on it's original airing schedule a few cautionary searches through the BBC's Genome project I can see that the show was broadcast as late as 2001. The show has an distinguished Christmas feel which causes a lot of constraints around when it should be aired, definitely in regards to airing repeats. As like many animated items from the 1990s the show was eventually replaced by newer and bigger things; likely a CGI monstrosity or the like. I don't have fond memories, nor do I have resentful memories of this show. I only recalled it upon finding the VHS tape abandoned in a free pile at my local charity shop.
I am amazed however that for a show with such a short air date and specific theme was given a home media release. Although it only contains just under 50% of all episodes, this is still a lot better than some other lost titles.
The home media release is pretty standard for the time with nothing special or interesting to say about it, aside from the fact the video tape is encoded with Macrovision Copy Protection which will cause issues with some more legitimate video capture devices.
Aside from a few mentions in the Genome project the Beeb don't seem to have much else to say about this show – there isn't even a lackluster show entry available.
Episode List and Status
Legitimate Availability
This section we examine how much of the TV show is available through legitimate means. This equates to being able to purchase or rent physical home media releases of the show (either new or from second-hand marketplaces), the shows availability on paid-for streaming services (such as Netflix or Amazon Prime Video) or the shows availability on the original broadcasters video on demand (VOD) systems (such as BBC's iPlayer or Channel 4's All 4). We also consider the likelihood of re-runs of the programme which may lead to higher quality copies becoming available.
Romuald the Reindeer has only one known home media release containing just 5 of the 13 episodes available.
The show is not available on any streaming/video-on-demand services.
It doesn't appear that a re-run of the show 20 plus years on is likely to happen.
Episode List
♦ = Air date from the sleeve of BBCV 6934
*Air Dates are the last known/available information about the airing of this episode. They may not be 100% accurate and are only to be taken as a vague indication of how long a programme has been off-air.
Additional Airings/Repeats
Episodes of the show were broadcast on these dates, however there is not enough information to distinguish which episode was broadcast:
Rumours/Unconfirmed Facts
12/09/2018 – while searching for lost episodes on YouTube there appear to be many different videos from what appear to be children uploading short videos of a video tape with a nearly identical title as the BBC release (The Adventures of Romuald The Reindeer: Holiday Fun). It appears to be a Canadian/US release by Alliance Atlantis, however an eBay listing I have found on ebay.com indicates that the video may be some sort of feature length episode?
Research Goals / Next Steps
Locate the first broadcast date for the episode Camping Trip
Locate clips or full episodes of the 7 missing episodes
Confirm correct broadcast order/running order of the show
Locate clip or full copy of the mysterious Alliance Atlantis North American release.
Further Reading / References
See the following links for further reading, research and/or references.
Further Reading
References