Renault 5 TL (Silver) – Matchbox Model
The Renault 5 is one of my favourite retro cars – so much I hope next year to replace my Nissan Micra with one and take it on a trip to Europe. A truly timeless design the Renault 5 fits nicely into the European 'supermini' group. I am unsure exactly when I ended up with this model, part of me guesses it was a charity shop purchase from my childhood – what I do know is that it is not a recent purchase. I do have a strong bond for this little car however this model is far from perfect, one thing I do appreciate is that a model was made for the very normal TL trim level – with many pining over the Turbo editions that came later on.
This model is from 1978 and is part of the Superfast range by Matchbox. The model features an opening plastic tailgate which is made from a grey plastic which feels softer than the plastic used for the base. The model is constructed of a die-cast body painted in silver, black plastic base and a bright red plastic interior mould – which I find distracting and cheapens the feel of the model.
In regards to details the model has enough of them to properly identify it as a Renault 5. The details include hood vents on the bonnet, door handles on both sides, taillights, front and rear number plates (reading 171W75), fuel filler cap on the passenger side, headlamps and indicators. I feel that the black plastic hides a lot of the finer details found on the front bumper – however this could be easily remedied with a well guided paintbrush or paint pen.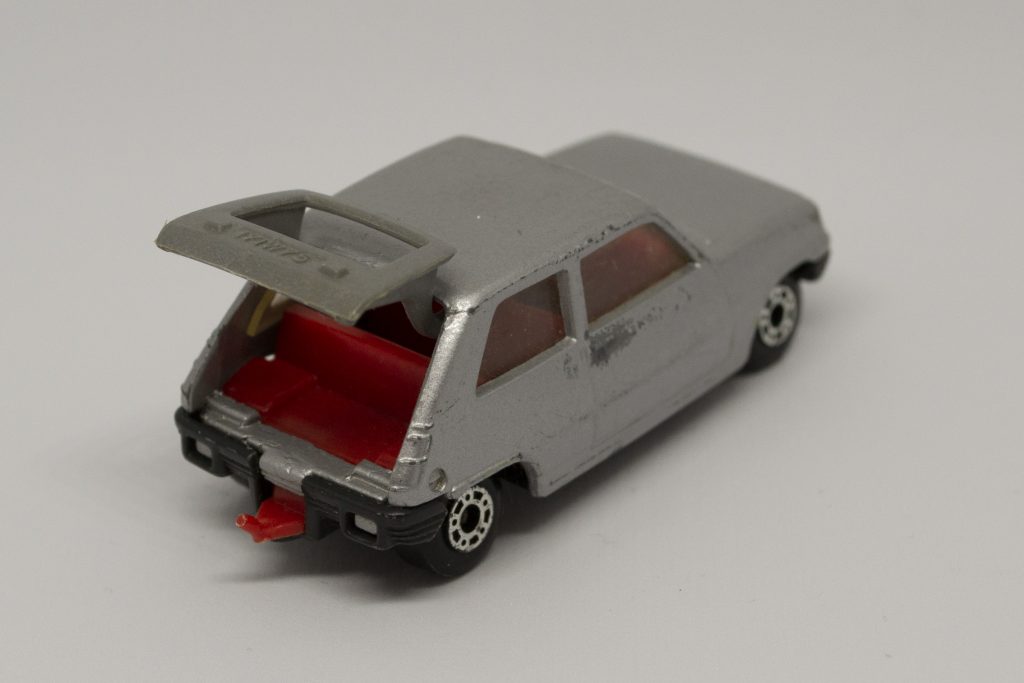 Visibility into the interior is possible by both the clear plastic windscreen and windows (which cover the front and both sides but not the rear), along with additional visibility when the hatch is opened. With the hatch opened one can see into the cars cabin where a clearly moulded steering wheel, dashboard and 4 seats are visible.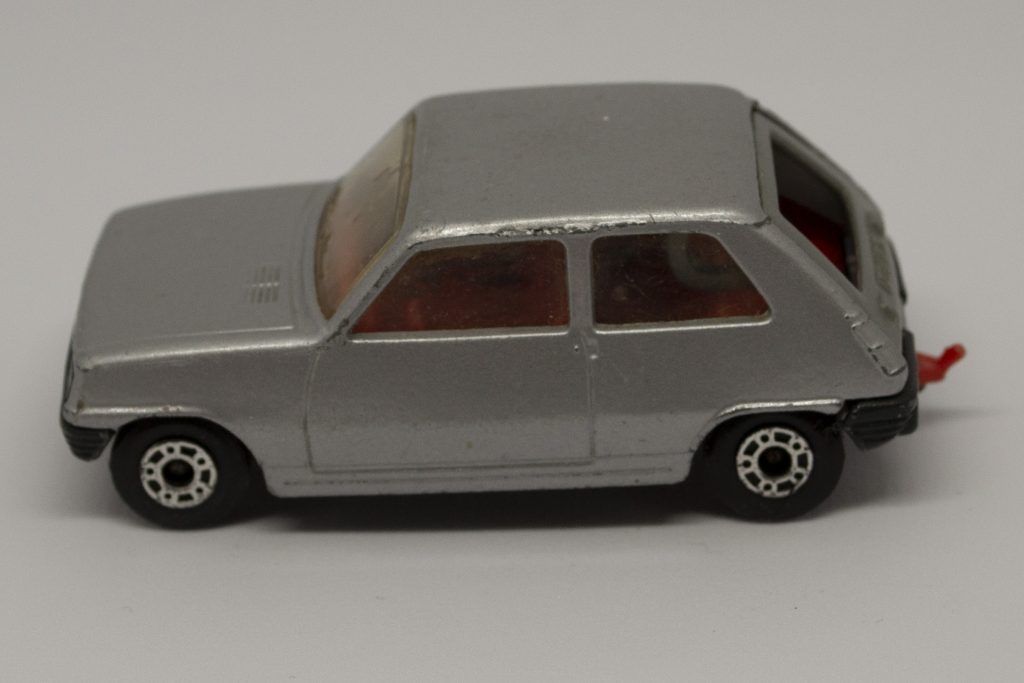 The car has four Superfast wheels which spin independently on their axles, however the car features no suspension to prevent bent axles. The size of the 'track' of the wheel base is also rather narrow, causing the wheel arches to overhang on both axles.
In regards to condition my example has a strange corrosion on the passenger door, along with a manufacturing flashing fault along the top seam of the door frame on the drivers side. Other than this the car is in great condition.
Model Status – In Collection 

Model Details
Model Manufacturer
Matchbox
Model Scale
1/65 (?)
Year of Manufacture/Copyright
1978
Country of Manufacture
England
Model of
1978 Renault 5 TL
Identifiers
No. 21
171W75 (number plate)
Variant/Speciality
Not a special variant
Colour
Silver
Decals
No decals
Feature
Rear hatch opens
Body Material
Die-cast metal
Base Material
Plastic
Base Colour
Black
Interior Material
Plastic
Interior Colour
Red
Glass Colour
Clear
Wheel Material/Style
Plastic/"Superfast" wheels
Suspension
No