1970 Chevelle SS (Butterfinger Livery) – Hot Wheels Model
This is one of my most memorable models that I own. I don't know why exactly, probably the unusual livery. Unusual in the sense that when I was a lad you rarely (if ever) would come across American confectionery in the supermarkets. The availability of US choc' such as Hersey's, Reese's and Butterfinger's has only become a recent trend in the last few years. My first time eating a Butterfinger was earlier this year, and the experience was very much OK. Prior to this life changing event the only other exposure to the brand was through seeing the classic Bart Simpson adverts as a special feature on a box set.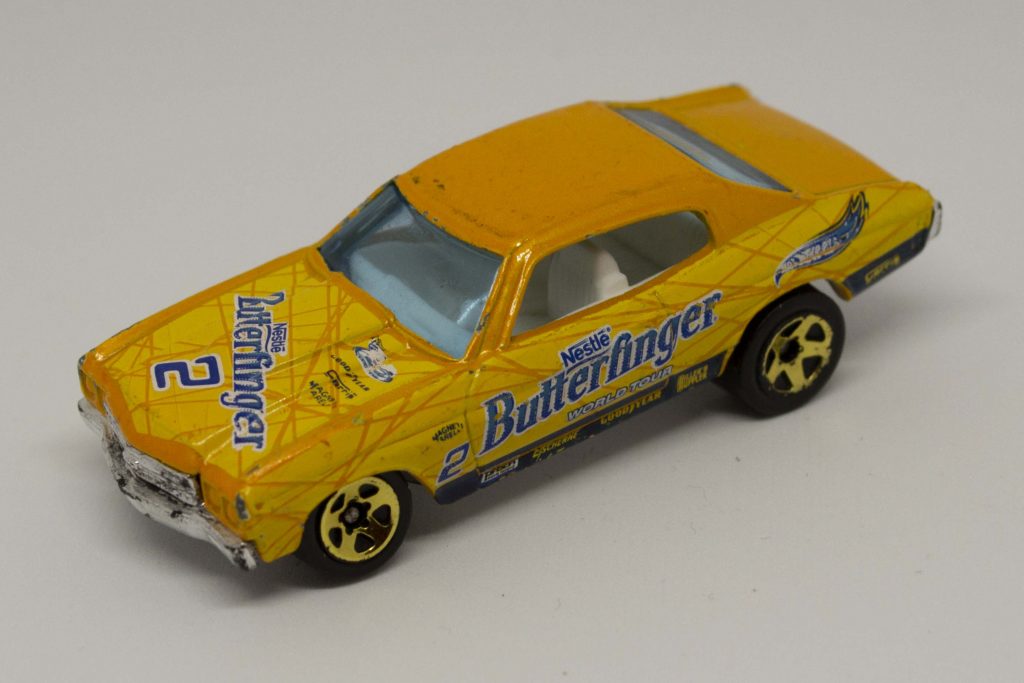 OK enough about American Candy, let's look at this model. The model is a 1970 Chevrolet Chevelle SS in yellow sporting different sized wheels and a Nestlé Butterfinger livery. According to hobbyDB it was part of the Hot Wheels Sweet Rides series which was a short lived series of models sporting sweet/candy liveries.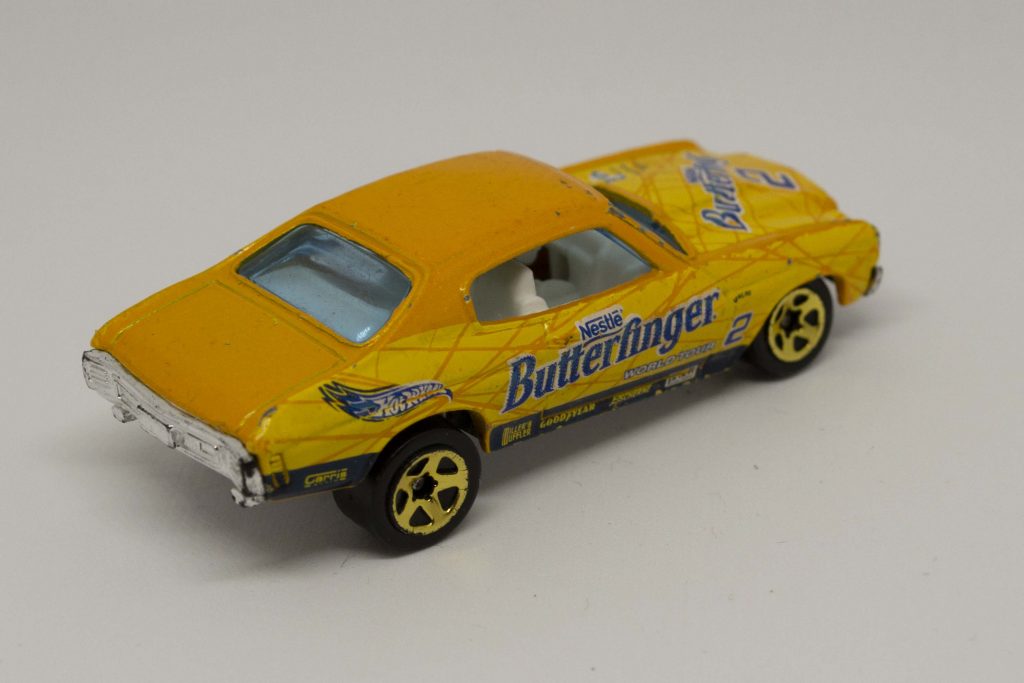 The model is a die-cast body with plastic base painted silver/chrome. There are two rivet points front and back that keep the base attached to the body. The plastic interior is white with a blue tint glass windshield and rear window – with no windows present for the passenger and driver doors.
The model is reasonably well detailed with nice panel lines, rear and front bumper mouldings with headlamps and taillights, detailed grille and door handles. The choice of a chrome base helps the small details along the bumper bars to stand out. The interior is visible through the absent side windows, revealing a decently detailed dashboard, steering wheel and four seats.
The model is fitted with smaller wheels on the front axle with larger thicker wheels along the back. Both sets are of the HW 5SP design and are finished in a striking gold colour. The axles have no suspension or anti-crush technology which has caused an unfortunate camber issue on my example. The decision to make the rear wheels larger than the front is likely a tribute to the Chevelle's popularity as a drag car.
On the underside you will find a reasonably well detailed chassis with obvious suspension components, drive shaft, dual-tip exhaust system and differential.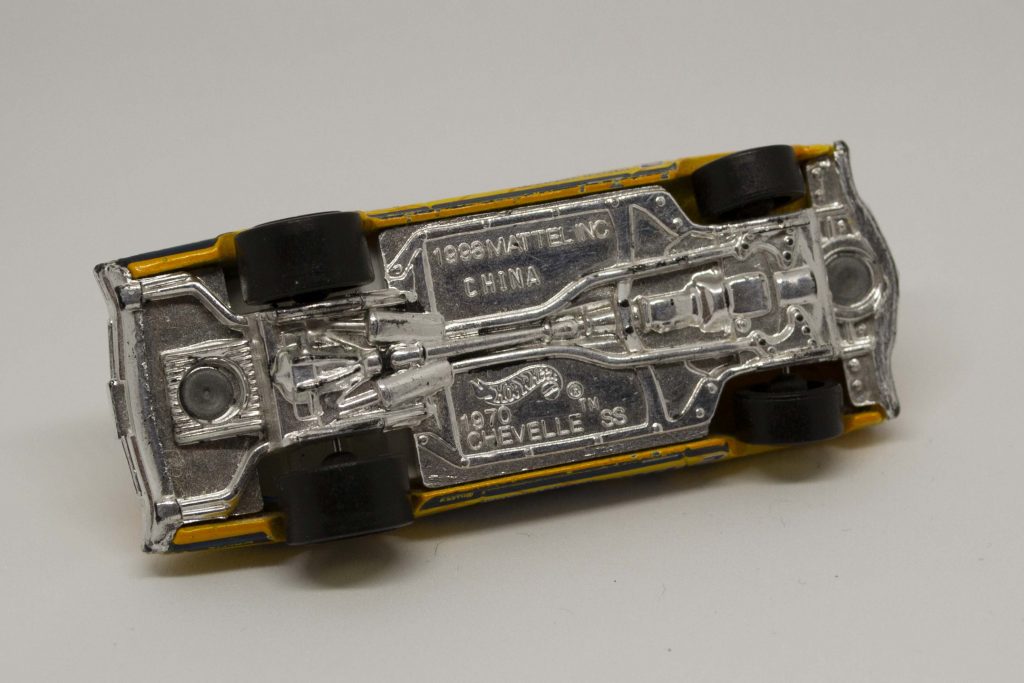 Coming back to the party piece of this model, the livery, we have sponsorship stickers/logos from Hot Wheels, Butterfinger, Carris, Miller's Muffler, GoodYear, Magneti Marelli and a few others that I cannot decipher.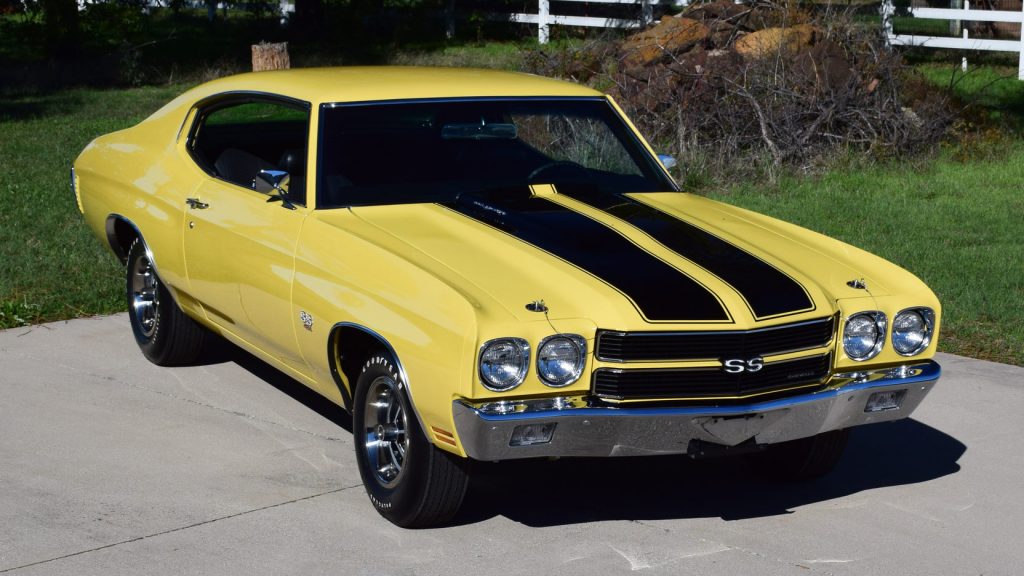 It is unfortunate that the livery found here was not used on a real competition car, as I find it quite interesting to look at. The condition of my model is very much play worn with scuffs along the roof, the aforementioned bent front axle and small pieces of paint missing from the body.
Model Status – In Collection 

Model Details
| | |
| --- | --- |
| Model Manufacturer | Hot Wheels |
| Model Scale | 1/64 (?) |
| Year of Manufacture/Copyright | 1998 |
| Country of Manufacture | China |
| Model of | 1970 Chevrolet Chevelle SS |
| Identifiers | No identifiers |
| Variant/Speciality | Not a special variant |
| Colour | Yellow |
| Decals | Nestlé Butterfinger livery |
| Feature | No feature |
| Body Material | Die-cast metal |
| Base Material | Plastic |
| Base Colour | Silver/Chrome |
| Interior Material | Plastic |
| Interior Colour | White |
| Glass Colour | Blue |
| Wheel Material/Style | Plastic/HW 5SP 'Gold' |
| Suspension | No |