Belle Canto ‎- Whisper Of Angels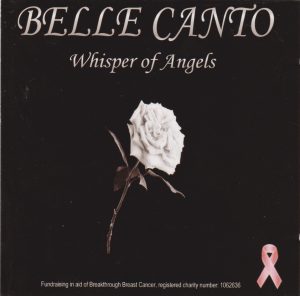 Release Name: Belle Canto ‎– Whisper Of Angels
Release Year: 200?
Identifiers: WEWOW.CO.UK 10171
Format: CD
Country of Release: England
Genre(s): Opera Pop, Classical Crossover
OK, I can't go to hard on this. The CD has a clear intention, to raise money for a breast cancer charity – so my critical tongue will have to rest.
Belle Canto are a musical duo comprising of Michelle Crozier and Kyla Lingley. On this CD of 11 tracks they sing various popular Opera hits such as Ave Maria and Quando M'en vo and some more 'pop' tracks such as You Raise Me Up (popularised by Irish boy-band Westlife). This isn't really anything that I would say I am keen on, or even remotely interested – but in the interests of this project I have listened to a few tracks.
What you get are two very talented singers, accompanied by the typical karaoke 80s Casio demo track style backing tracks. A shame but keeping in mind that this was likely done on a very small budget, I'll let it pass.
Using the wonders of the internet both Michelle and Kyla are still pursuing their respective musical careers, however they do not appear to be performing as the duo.
The release is nicely produced in that we have a properly pressed CD (courtesy of WeWow) in a full size jewel case. My release is signed with the comment To Roger, Best Wishes Michelle x Kyla xo which would likely indicate that the CD's were distributed at some kind of live event. A website also is stated on the back however it is no longer registered and Archive.org's WayBackMachine doesn't have any useful captures of it, as it appears to have been made during the Flash player phase of web development of the late 2000's.
I think raising money for charity through the joy of music is a fantastic idea, and I wish there were more options out there to support it. The supported charity for this release is Breakthrough Breast Cancer (reg. charity number 1062636), who are still going but under a new brand name of Breast Cancer Now.
Audio Player