Bangers & Smash (Duke Video, 2004)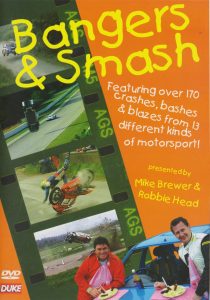 Bangers & Smash released by Duke Video in 2004 is a crash compilation film presented by TV used car pundit Mike Brewer (later famous for being part of the internationally popular Wheeler Dealers television series) and British professional rally driver Robbie Head.
This 1 hour ordeal (about the longest I've seen one of these compilation videos) takes the viewer through some of the most action packed moments of motor-sport (both car based and motorcyle based). The film is intersected with 'comedic' clips of the presenters driving various bangers (namely Reliant Robins and Ford Fiesta's) around a track colliding with each other, and performing various other antics. Some of the clips are narrated by either Mike or Robbie, however some clips appear to have the original narration present.
The Positives
Cheap – I picked this DVD up from a charity shop for the bank-breaking sum of 50 pence – however with the current climate for used DVD sales in the UK you could probably pick it up for as little as 20 pence. Looking on the website for entertainment reseller CeX they are selling the release for 50p. The DVD is still available to buy from Duke Video's store for £5 or via download for a mere £2.99
Recent Footage – something that plagues a lot of these compilation releases is that they include a lot of old, or previously seen, footage. Although it can be safely assumed that these release made for the enjoyment of children more than adults, who likely don't care about the age of the clips – it is nice for this release to be at least some kind of representation of motor-sport at the turn of the millennium. Another benefit of the footage being recent to the release of the DVD is that it features a wide selection of camera angles, including in-car/cockpit views and some of the clips are able to show the action from many different angles.
No Banger Racing (sort of) – excluding the interludes with the presenters driving around a banger track, there are no clips that have come directly from banger racing or destruction derby's. I always feel these clips are cheating as these types of motor-sport are inherently crash focused and can become a bit boring to watch.
The Neutrals
Length – the length of the film is ok, coming in at 33 seconds over the hour mark (1hr, 33s). Comparing this to another crash compilation More Car Wars (Front Runner Video, 1988) which has a run time of 40 minutes, you are getting a considerable amount more content (taking into account that most clips are a few minutes in length). However as previously mentioned, these release are often marketed towards the younger generation who are not known for their ability to focus on something for extended periods of time. I even found myself beginning to zone-out from the film towards the end.
The Presenters – Let's talk about Robbie Head to begin with. I always enjoy when these films are presented by a professional as it can sometimes bring a different angle to it. Robbie's contributions in this film however are a little lack luster and mainly are him retorting to the banter from Mike. Mike Brewer, of Wheeler Dealers fame, is often known to annoy or irritate many car enthusiasts the world over. I would say this has over recent years only become worse with his representation of the aforementioned television programme being reduced to simple man who buys cars, makes a lot of demands and is a bit of a prat. I actually remember Mike regularly being on the television providing his knowledge on the used car market – and although he can sometimes be a bit annoying with his banter overall he does know a decent amount about cars. (I suggest his Trading Up series to demonstrate who Mike actually is beyond Wheeler Dealers). Overall, for this film both presenters don't really bring anything too interesting or unusual to the table, but don't make the experience unenjoyable.
Variety – Given its due the release doesn't state that it is only about car motor-sport, and so in this film you get a mixture of motorcycle and car (some some truck) based motor-sport. I would say there is around a 50/50 split of the two types, which is a nice change from it being heavily weighed to one side. For the motorsports themselves you get a nice mixture of rally, rallycross, motocross, superbikes, touring cars, trials and formula 3 content – however it can be said there are more clips from rally and motocross than everything else. For me this is a neutral point as I prefer more car based content, however I can't move it to a negative as I appreciate there are many car enthusiasts who are also bike enthusiasts.
The Negatives
Music – To further cement my opinion that this release was intended for the younger audience, throughout the film we are subjected to the most inane and infuriating loop of silly circus music. Music that you would expect to be featured in a pre-school cartoon or to come out of some dreadful battery operated toy, is looped almost continuously through out the film. At one point it does change, to a horrendous kazoo music track. I would rather they just stick to the sounds from the footage.
Comedy – the comedy banter that is featured in the interludes can only really be described as being rather immature – which is expected considering the subject matter along with the potential target audience. The film carries an exemption stamp – meaning that it is not at the mercy of the BBFC – however this doesn't equate to the content being a wholesome U classification. Considering the odd swear is dropped in the interludes along with some clips clearly showing human beings in distress (more so with the motorbike sports clips) – I would give this a strong PG rating, possibly even a 12.
Summary
All in I would say that this film is worth a watch if you come across it, however I wouldn't suggest hunting for it as there really isn't too much special about this release. Rewatch-ability is limited, with the biggest detraction being the awful music.
Further Reading/Purchase Links