BT Digital Access USB R1D (2001) (PN: CD-9030-024-R1D)
BT Digital Access USB R1D part number CD-9030-024-R1D is a driver CD-ROM that would have been included with the sale of a BT Digital Access USB Device model number R1D. The CD-ROM contains a mixture of user guides and drivers for Windows 98, 98 Second Edition, Millennium Edition, 2000 Professional, Windows XP Professional Edition, Windows XP Home Edition and Mac OS 9.0, 9.1 and 9.2. The CD-ROM has a matrix identifier of 459-5245 01 and was pressed by Sonopress.
The included User Guide documentation explains a bit more of what the BT Digital Access USB R1D device is:
The BT Digital Access USB is an ISDN Hot Plug & Play adapter designed to be used with computers equipped with USB ports […] The BT Digital Access USB allows you to establish a connection at 64 or 128kbps (such as an Internet connection) or with two sites simultaneously (at 64 kbps). The D channel is part of the service that manages the ISDN signalling. The BT Digital Access USB features a virtual communication port, which allows any communication software to control the adapter. It includes modem software for faxes up to 14.4kbps, and file transfers using the V.32 and V.32bis protocols which are compatible with analogue modems.
Quick Specs
Manufacturer
BT (British Telecom)
Models Applicable
Digital Access USB R1D
Year of Manufacture/Copyright
2001
Media Identifiers
Part Number – CD-9030-024-R1D
Disc Matrix – 459-5245 01
Operating System Applicable
Windows 98
Windows 98 Second Edition
Windows Millennium Edition
Windows 2000 Professional
Windows XP Professional
Windows XP Home
MacOS 9.0
MacOS 9.1
MacOS 9.2
Type of Media
CD-ROM
Software Types Included
Drivers
Media Content Breakdown
Drivers
Drivers are all kept under the root directory.
BT Digital Access USB Adapter v 5.59
Directory: \
This folder contains system files required for the driver installation. The drivers can be easily installed using an InstallShield wizard SETUP.EXE executable.
The setup file gisdnpnp.inf reveals that the driver applies to devices carrying Vendor ID (VID) 0483 and Part ID (PID) 481D.
Utilities & Software
Acrobat Reader 5.0
Directory: Acrobat
The CD-ROM includes a copy of Acrobat Reader 5.0 which would be required to read the included user guide PDF files, however for some reason the version included doesn't want to execute properly under our Windows 98 Second Edition virtual environment.
Miscellaneous
Help Documentation
Directory: PDF
The CD-ROM includes a series of user guides in PDF format, they can be read below:
Download Link & Instructions
Usage Instructions
Inserting the CD-ROM into any of the supported systems will incur the included autorun file to launch, this displays a simple splash menu as seen below. This screen advises the following instruction:
After checking that htere are no other adapters installed, to install the USB driver installation, connect your USB cable to the BT Digital Access (USB) unit and your computer.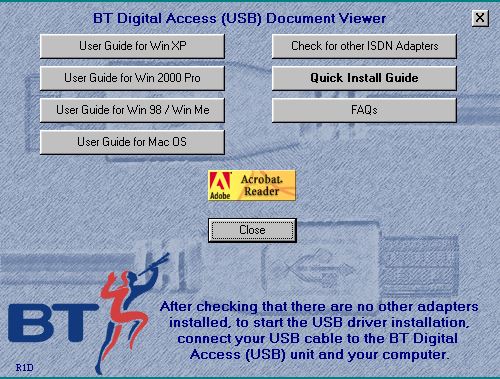 Download
Further Reading