This is a post covering the content included with Computer Buyer's April 2002 cover mount CD-ROM as part of the Shovelware Showcase series.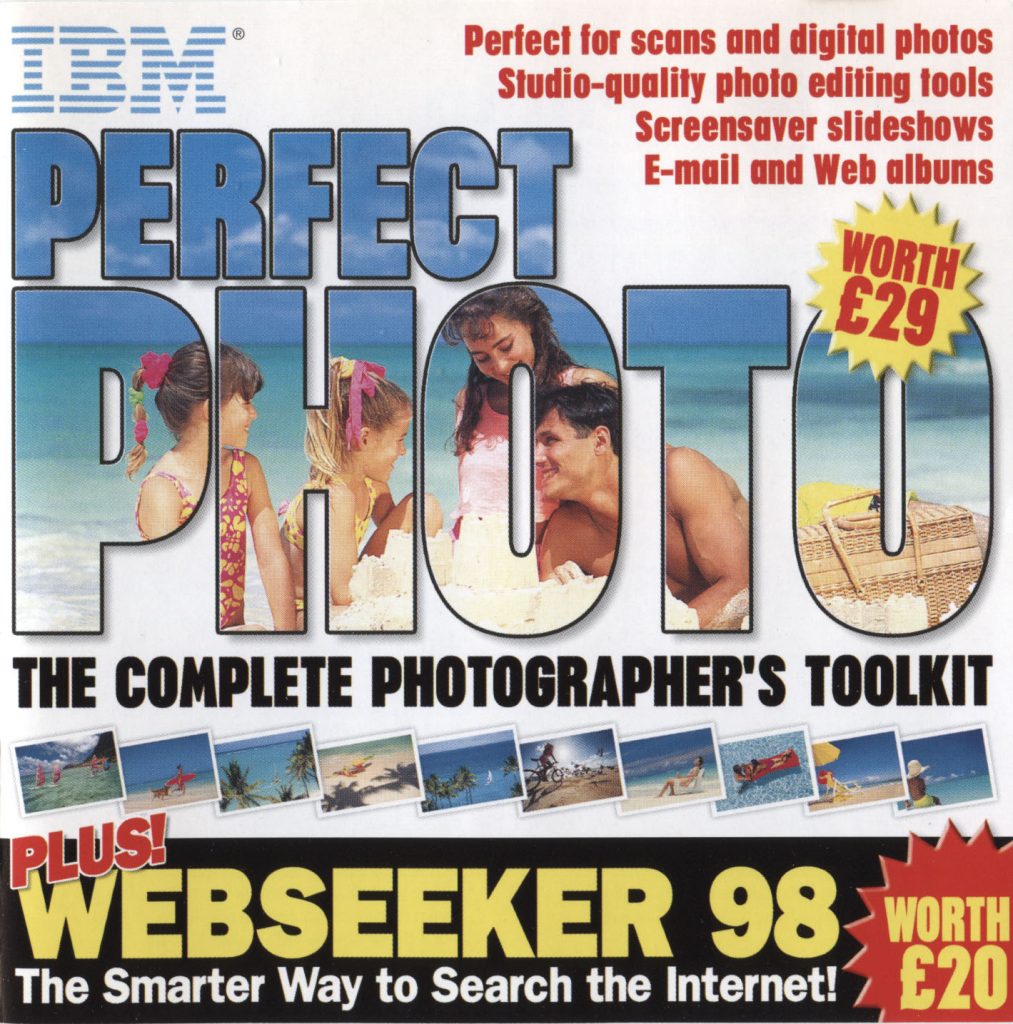 Overview
This is a cover mount CD-ROM included with the April 2002 issue of Computer Buyer. The CD is reasonably packed with software, containing a total of 642 megabytes of content. The main featured software is a photo / image editing program by IBM named PerfectPhoto, which according to the cover had an RRP of £29 and a search engine extension, Webseeker 98, with a value of £20. The CD-ROM includes a few other items including an evaluation copy of some web page authoring software by IBM (popular at the time with the dotcom boom and the rise in internet connections), a PDF creation tool, a tool which can apparently increase your reading overnight (AceReader) and a tool that allows you to create Windows XP style icons for previous versions of Windows. Along with these the CD-ROM also includes some Kaspersky update files (a little odd as no Kaspersky anti-virus software trial is included) and your typical offerings from various ISPs at the time (including the beloved America On-Line (AOL)).
The CD-ROM takes on a standard format with a simple menu system to help guide the user through installing the applications. There aren't really any bonus or hidden items on the CD-ROM without expanding some of the installer archives themselves (see individual software pages for that information).
Packaging
Packaging consists of a standard size CD-ROM jewel case with a solid black tray. A full colour front booklet is included with 4 pages (inc. cover) of content. A full colour rear inlay is included but is only single sided. CD-ROM is standard size with a metallic blue label. VSO Inspector reveals the CD-ROM was authored with Adaptec Easy CD Creator on 25th January 2002.
Identifiers
The booklet and rear inlay have an identifier of DPCB0402.
The CD-ROM has an identifier (matrix ring) of DPCB 0402 2013013.
Contents
The CD-ROM is filled 642 MB out of a possible 700MB.
The featured items of software are:
IBM PerfectPhoto (Full)
WebSeeker (Full)
WebSphere Studio Homepage Builder 6 (Evaluation)
AceReader Pro v2.0c
pdfFactory v1.16
TransText
Software
| | | | |
| --- | --- | --- | --- |
| Name | Publisher | Version | Tested |
| PerfectPhoto | IBM | v1.03 | Yes |
| WebSphere Studio Homepage Builder | IBM | v6 | Pending |
| Webseeker 98 | Blue Squirrel | v3.4.0.3 | Pending |
| Webseeker | | v5 | Pending |
| pdfFactory | FinePrint | v1.16 | Pending |
| AceReader Pro | StepWare, Inc. | v2.0c | Pending |
| TransText | ChaosSoft | v1.20 | Pending |
| Kaspersky Updates | Kaspersky | Unknown | Unable to Test |
| AOL | America On-Line | 7.0 | Pending |
| Acrobat Reader | Adobe Systems Inc. | 4.05b 0127 10:04 | Pending |
Images, Audio and Video
The only image files of note are a couple of web banners that appear in the software browser application, these have been added to the web banner gallery.
There are no audio or video files of note.
Miscellaneous
The CD-ROM includes various files that relate to the structure of the CD-ROM browser.
There are a few user guides that can be found on the CD-ROM, these are:
There are also some promotions included from a few ISP's – AOL, Tiscali, Freedom2Surf and Abel Gratis. AOL is presented with a traditional installer for the AOL 7.0 web browser, instant messaging, email hub application that it is infamous for. Tiscali and Freedom2Surf are just re-branding packages for Internet Explorer 5.5 and 6.0. Abel Gratis is presented as an offline web-site (made up of a series of HTML files, image files and even some CSS files) containing information about the various services they provide, this has been archived and can be viewed here.
Images