This is a post covering the content included with the Freeserve "Free Unlimited Internet Access" 1999 Sign Up CD-ROM as part of the Shovelware Showcase series.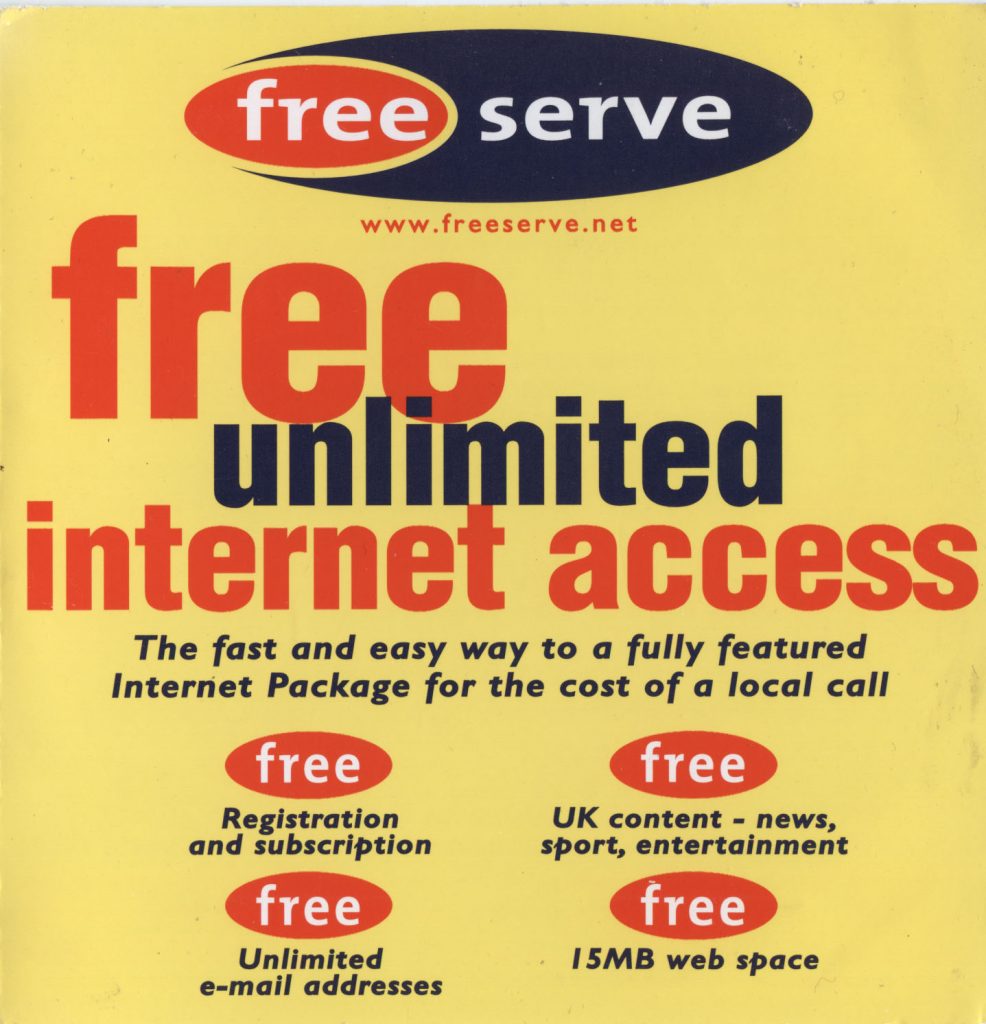 Overview
This is a standard issue Internet Service Provider (ISP) sign-up disc, of which this example is very traditional. The included help file confirms (under Frequently Asked Questions) that this CD-ROM would have been made available from retailers Dixons, Currys, PC World or The Link.
The CD-ROM is traditional in the sense that it does not contain a lot of much value – it simply includes a copy of Internet Explorer (in this case v4.5) which has been modified with Freeserve branding. When installing it will also give you the options to install other Microsoft Internet based applications such as Outlook Express and Microsoft Chat.
The most interesting parts of these ISP discs is usually the packaging itself, providing a window into early Internet acccess. This red, blue and yellow affair informs hits us with a lot of free promotions such as Free registration and subscription, free UK content, free unlimited email addresses and free 15mb web space. The first two seem a little redundant as nearly every ISP in the history of the internet has free registration because they want your custom. Also the part about free content seems alien to us these days, but was probably a necessary clarification for new adopters as most information required payment – magazines, newspapers, books three examples who's impact would be serverely dampened by the wonder of the internet. Free email addresses also is a misnomer, as Freeserve would give you as many webmail accounts as you like – yet it would seem novel to have such a new service as email for free. Lastly the 15MB of free web space seems insanely small in todays world of giga and terabytes but this was from a time when websites (or homepages) were considerably small. Unforunately we can't register for an account anymore, not only because this CD-ROM is over 20 years old and things have changed considerably since – but Freeserve went defunct a year after in 2000 and would completely ceast to exist in 2004 (following a merger with Wanadoo, then Orange and finally EE).
Packaging
Packaging consists of a standard size CD cardsleeve which folds out into a gatefold presentation, all sides of which are fully printed in colour. The CD is accessible by opening the gatefold and is stored in the rear most compartment, which has an opening on the left edge.
Identifiers
The sleeve has an identifier of AH_02_99.
The CD-ROM has an identifier (matrix ring) of 87738 CD ROM :1 :5 : 16.
Contents
The CD-ROM is filled 37 MB out of a possible 700MB.
The featured items of software are:
Software
| | | | |
| --- | --- | --- | --- |
| Name | Publisher | Version | Tested |
| Internet Explorer | Microsoft | 4.5 | Pending |
Images, Audio and Video
The only image files of note are a few graphic components such as logos which act as part of the sign up process.
There are no audio or video files of note.
Miscellaneous
A help file exists which assists with getting connected to the Freeserve servers.
A copy of the CD-ROM in ISO format can be found here on Archive.org.
Images