This is a post covering the content included with the Freeserve Anytime "Internet Starter Pack" CD-ROM as part of the Shovelware Showcase series.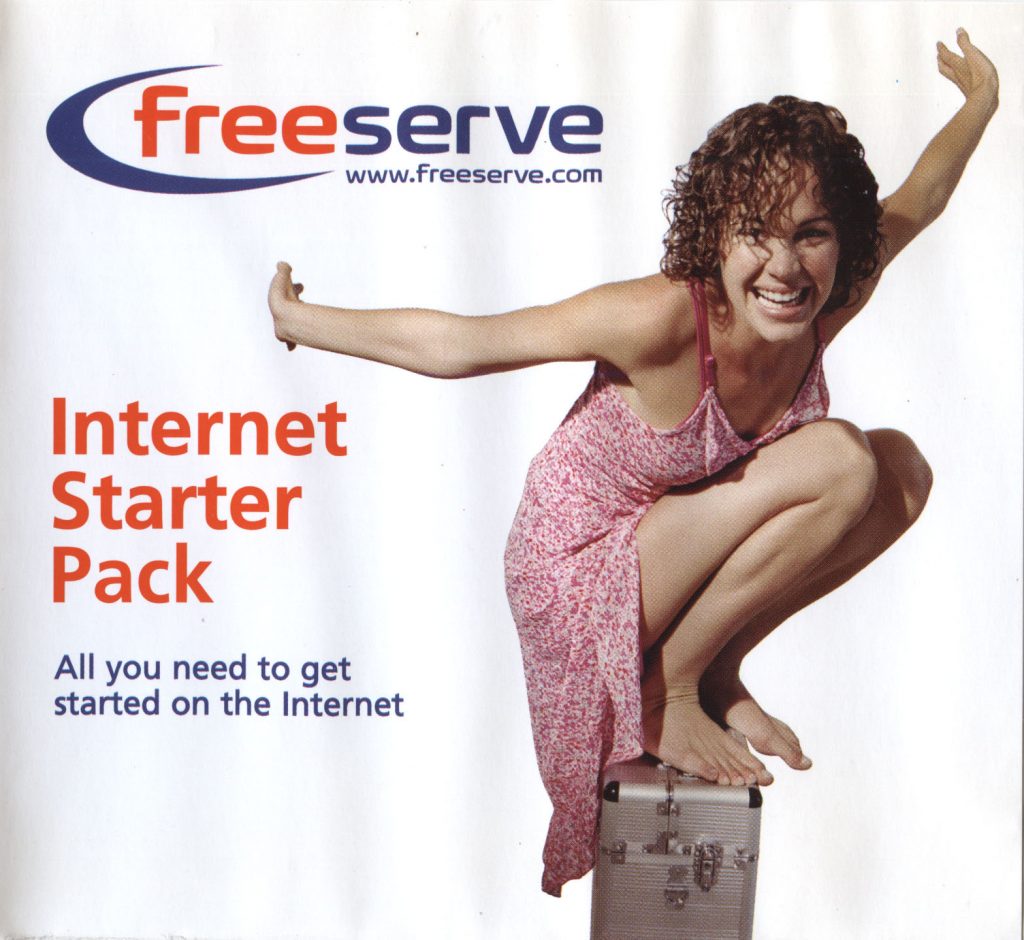 Overview
Here is a later example of a Freeserve Anytime (their top tier package) sign-up CD-ROM from 2002. In comparison to the example I have written about from 2000, not too much has changed. The main thing is that this comes in what I consider to be the most infuriating packaging possible – a non-standard sized case. The CD-ROM serves much the same purpose as the one from 2000 – it includes a lot of promotional content on the packaging to entice you to sign up with Freeserve and the software included on the disc is rather mundane. This edition includes the then newest edition of Microsoft's Internet Explorer (version 6), Outlook Express 6, an update to SP6 for Windows NT systems, the Microsoft Java VM software and Freeserve's branded webphone software.
Most of the CD-ROM's contents is taken up by a series of multimedia guides that use Macromedia Shockwave Flash to help new users get online. This was becomming a common way of providing assistance to computer users in the early 2000's as it was ultimately a lot more enjoyable than reading pages upon pages of text. The Flash based intro guide lasts for just over 10 minutes and I have gone to the trouble of recording it inside a VM so you can witness it in all it's 2002 glory (although I should have probably run it under Windows XP instead of 98).
Packaging
Packaging consists of a Amary branded plastic keepcase that is approx 14 cm wide, 2 cm deep and 12 cm tall. This fax box keep case has a full colour paper inlay which wraps around the left side of the box. Inside is a single disc holder to which the CD-ROM is seated.
Identifiers
The inlay has no identifier.
The CD-ROM has an identifier (matrix ring) of FRE V2.15e.03 and is pressed by DOCdata UK.
Contents
The CD-ROM is filled 304 MB out of a possible 700MB.
The featured items of software are:
Software
Name
Publisher
Version
Tested
Internet Explorer
Microsoft
6.0.2600.0000IS
Yes – Working
Freeserve Webphone
Callserve Communications
32.1.0
Yes – Broken
Requires on-line activation
Microsoft JVM
Microsoft
5.00.3802
Yes -Installs OK
Images, Audio and Video
The CD-ROM is filled with many Shockwave Flash files (.SWF) which are components for the interactive guides found on the CD-ROM.
There are a lot of image files under the help directory which as as components for the HTML web guides.
Miscellaneous
A HTML based help guide exists under the Help directory on the CD-ROM, a copy of which can be found here.
A copy of the CD-ROM in ISO format can be found here on Archive.org.
Images