I picked this book up for quite abit more than I would normally have ever spent on a book of this nature – £12. OK not bank breaking, but considering that I normally pay less than £1 a book this was unusual. I actually visited this particular antiques and collectables shop a week prior and found this book along side some very fairly priced copies of AutoSport magazine (at £1/issue, more my level). But I couldn't shake the thought of how interesting this book was to me. It just stood out.
An unusual size in that this book is extremely long, and not very tall – this 80 page delight contains a chronological list of every American car of the 1960s. What is nice is that although the book is an unusual shape, it is not so big that it becomes a nuisance to store – much like many art books are.
Working from 1960 through to 1969 the book features cars from a range of US marques including Chevrolet, Chrysler, Ford, Pontiac, Cadillac, AMC, Plymouth, Buick, Oldsmobile, Dodge and Lincoln – as well as smaller now forgotten marques such as Metropolitan and Rambler.
The book is set out very similar to a bird watchers guide – with nice clear photographs (mostly library style photos) with a number and letter designation. This code then matches a short paragraph about the vehicle – some longer than others. At this time of fast paced car development the book demonstrates and covers even small revisions between the years for models.
Although part of me wishes for the book to have more detail about some cars, I feel that I would probably dislike the book if it did so – as it would cause it to become the unruly size that I so detest to store.
One big negative point is the lack of any glossy colour photographs of the cars. At a time when most of these beautiful land yachts and muscle cars came with beautiful metallic paint jobs, they have all been confined to a very dull grey throughout the book. Likely a limitation imposed by the time of publication – also taking into account that Haynes are more known for their technical workshop guides which are black and white through-and-through.
A not-so-serious negative for this book is it makes me yearn to drive, or even ride, in some of these wonderful cars. However encountering an example in the UK is rare even for the more popular models featured in this book. Being the terrible car hipster that I am I want to ride in the lesser known automobiles on show; alas I can at least pine over them on various American car sales websites and portals with the ever lasting hope one will show up on Jay Leno's Garage or Regular Car Reviews.
Book Details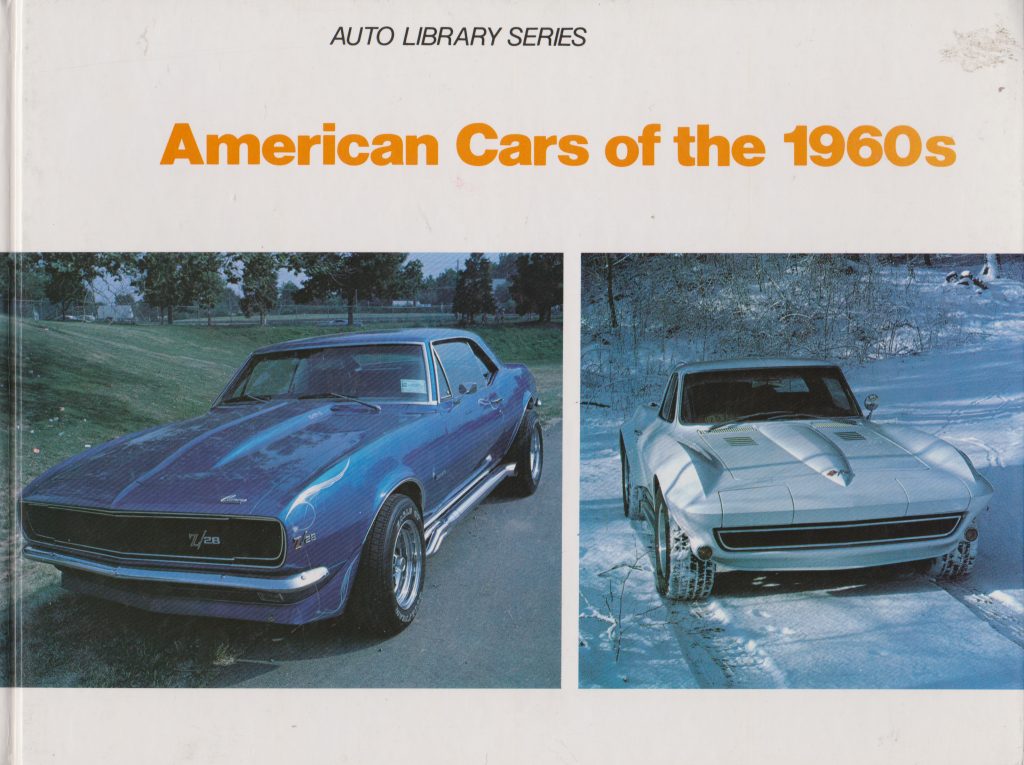 Title: American Cars of the 1960s
Series: Auto Library
Publisher: Haynes
Year of Publication: 1977
Year of Reprint: 1987
Format: Hardback
Pages: 80
Original Price: £6.95
ISBN: 0854295658
Feature List
The following cars are featured in this book:
1960 Buick Invicta 4600
1960 Cadillac 62 Series
1960 Chevrolet Corvair 500
1960 Chevrolet Corvette XP-700
1960 Chevrolet Impala Convertible
1960 Chrysler Valiant V-200
1960 DeSoto Adventurer
1960 Dodge Dart Phoenix
1960 Ford Falcon
1960 Ford Galaxie
1960 Ford Thunderbird
1960 Imperial Le Baron
1960 Lincoln Continental
1960 Mecury Montclair Hardtop
1960 Mercury Comet
1960 Metropolitan 1500
1960 Oldsmobile Dynamic '88'
1960 Plymouth Fury 8
1960 Pontiac Bonneville Sport Coupé
1960 Pontiac Laurentian
1960 Rambler Ambassador
1960 Rambler American
1960 Studebaker Hawk
1960 Studebaker Lark Convertible
1961 Buick Le Sabre
1961 Buick Special
1961 Cadillac 'Shaikh'
1961 Cadillac Sedan de Ville
1961 Chevrolet Corvair Lakewood Station Wagon
1961 Chevrolet Greenbrier Sports Wagon
1961 Chevrolet Impala Sport Sedan
1961 Chrysler 300 G
1961 Chrysler Valiant Station Wagon
1961 Desoto Two-door Hardtop
1961 Dodge Dart Pioneer Station Wagon
1961 Dodge Lancer
1961 Ford Sunliner
1961 Ford Thunderbird
1961 Imperial Crown
1961 Lincoln Continental
1961 Mercury Monterey
1961 Oldsmobile F-85
1961 Oldsmobile Super '88' Holiday Sedan
1961 Plymouth Fury 8
1961 Plymouth XNR
1961 Pontiac Bonneville Hardtop
1961 Pontiac Tempest
1961 Rambler Ambassador V8
1961 Rambler American Convertible
1961 Studebaker Lark Regal
1962 Buick Electra 225
1962 Buick Special Convertible
1962 Cadillac Series 62 Convertible
1962 Chevrolet Chevy II '300'
1962 Chevrolet Corvette
1962 Chevrolet Impala Sports Sedan
1962 Chrysler 300 H
1962 Chrysler New Yorker
1962 Dodge Polara 500
1962 Dodge Turbo Dart
1962 Ford Fairlane 500 Town Sedan
1962 Ford Falcon Futura
1962 Ford Galaxie County Sedan
1962 Imperial Le Baron
1962 Lincoln Continental Convertible
1962 Mercury Comet
1962 Mercury Monterey Custom
1962 Oldsmobile '98' Holiday Sports Sedan
1962 Oldsmobile F-85 Cutlass
1962 Plymouth Fury Suburban Station Wagon
1962 Plymouth Sport Fury Hardtop
1962 Plymouth Valiant 200
1962 Pontiac Cataline Vista
1962 Pontiac Tempest
1962 Rambler American 400
1962 Rambler Renault
1962 Studebaker Avanti
1963 Buick Riviera
1963 Buick Special
1963 Cadillac Sedan de Ville
1963 Cadillac Special Fleetwood
1963 Checker 9-passenger Aerobus
1963 Chevrolet Chevy II Nova 400
1963 Chevrolet Corvair
1963 Chevrolet Corvair Testudo
1963 Chevrolet Corvette Stingray
1963 Chrysler New Yorker
1963 Chrysler Turbine
1963 Dodge 330
1963 Dodge Dart GT
1963 Dodge Polara 4-door Hardtop
1963 Ford Fairlane 500 Sports Coupé
1963 Ford Falcon 'Clan'
1963 Ford Falcon Futura Sedan
1963 Ford Galaxie 500 4-door Hardtop
1963 Ford Mustang Experimental
1963 Imperial Le Baron
1963 Jeep Wagoneer
1963 Lincoln Continental Executive Limousine
1963 Mercury Monterey
1963 Oldsmobile 98 Holiday Sport Coupé
1963 Plymouth Valiant V-200
1963 Pontiac Grand Prix
1963 Pontiac Tempest
1963 Rambler Classic 770 Sedan
1963 Studebaker Hawk Gran Turismo
1964 Buick Electra 225
1964 Buick Special
1964 Cadillac Fleetwood Eldorado Convertible
1964 Cadillac Sedan de Ville
1964 Checker Marathon Sedan
1964 Chevrolet Chevelle Malibu
1964 Chevrolet Corvair Monza Spyder
1964 Chrysler New Yorker
1964 Dodge Custom 880 Convertible
1964 Dodge Polara 500 Hardtop
1964 Ford Fairlane 500 Sedan
1964 Ford Falcon Sprint
1964 Ford Galaxie 500/XL 4-door Hardtop
1964 Ford Mustang II
1964 Imperial Crown Hardtop
1964 Mercury Comet Caliente Hardtop
1964 Mercury Montclair Hardtop
1964 Oldsmobile Dynamic 88
1964 Oldsmobile F-85 Vista Cruiser Station Wagon
1964 Plymouth Barracuda
1964 Plymouth Sport Fury Two-Door Hardtop
1964 Plymouth Valiant V-200
1964 Pontiac Grand Prix Sports Coupé
1964 Pontiac Star Chief
1964 Pontiac Tempest Custom Four-door Sedan
1964 Rambler Ambassador Station Wagon
1964 Rambler American
1964 Rambler Classic 770
1964 Studebaker Commander
1964 Studebaker Cruiser
1964 Studebaker Gran Turismo Hawk
1965 Buick Riviera
1965 Cadillac de Ville Convertible
1965 Cadillac Fleetwood Sixty Special Edition
1965 Chevrolet Chevy II Nova SS Sport Coupé
1965 Chevrolet Concours
1965 Chevrolet Corvair Monza Convertible
1965 Chevrolet Corvair Monza Coupé Hardtop
1965 Chevrolet Impala Station Wagon
1965 Chrysler New Yorker Hardtop
1965 Cord Sportsman 8/10
1965 Dodge Coronet
1965 Dodge Custom 880
1965 Excalibur SS
1965 Ford Fairlane 500
1965 Ford Galaxie 500 XL Convertible
1965 Ford Mustang 2+2 Bertone
1965 Ford Mustang Fastback 2+2
1965 Ford Thunderbird Convertible
1965 Imperial Crown Coupé
1965 Lincoln Continental
1965 Mercury Montclair
1965 Mercury Park Lane Experimental
1965 Oldsmobile Dynamic 88 Holiday Coupé
1965 Oldsmobile Jetstar 88 Holiday Sedan
1965 Plymouth Barracuda
1965 Plymouth Valiant Signet 200
1965 Pontiac Bonneville 4-door Hardtop
1965 Pontiac Tempest GTO
1965 Rambler Ambassador 990 Convertible
1965 Rambler American
1965 Rambler Marlin
1965 Studebaker Daytona Four-door Sedan
1966 Ambassador 990 4-door Sedan
1966 AMC AMX II
1966 Avanti II
1966 Buick Electra 225 Hardtop Sedan
1966 Buick Skylark
1966 Buick Skylark 4-door Hardtop
1966 Cadillac Coupé de Ville
1966 Cadillac Fleetwood Brougham
1966 Chevrolet Caprice Custom Sedan
1966 Chevrolet Chevelle Malibu Sedan
1966 Chevrolet Corvette Mako Shark II
1966 Chevrolet Impala Sport Sedan
1966 Chrysler 300 2-door Hardtop
1966 Comet Escapade
1966 Dodge Charger
1966 Dodge Polara 4-door Hardtop
1966 Excalibur SS
1966 Ford Country Squire Station Wagon
1966 Ford Falcon Futura
1966 Ford GT 40
1966 Ford Mustang Hardtop
1966 Imperial Crown
1966 Lincoln Continental 4-door Sedan
1966 Marlin Coupé
1966 Mercury Park Lane 4-door Hardtop
1966 Oldsmobile Cutlass Holiday Hardtop Sedan
1966 Oldsmobile Toronado
1966 Plymouth Valiant Signet 200
1966 Pontiac GTO
1966 Pontiac Le Mans Sprint
1966 Rambler American Station Wagon
1966 Studebaker Cruiser 4-door Sedan
1967 Ambassador 990 4-door Sedan
1967 AMX III
1967 Buick Le Sabre Four-door Hardtop
1967 Buick Riviera
1967 Cadillac Coupé de Ville
1967 Cadillac Eldorado
1967 Chevrolet Camaro Super Sport Coupé
1967 Chevrolet Corvair Monza Sport Sedan
1967 Chrysler New York 4-door Hardtop
1967 Dodge Coronet 500
1967 Dodge Dart GT
1967 Dodge Monaco
1967 Dodge Polara 500
1967 Excalibur 35 X
1967 Excalibur SS Roadster
1967 Ford Fairlane 500
1967 Ford Mustang GT 500
1967 Ford Thunderbird 4-door Landau
1967 Imperial Crown
1967 Kaiser Jeep 'Jeepster'
1967 Kaiser Jeep Wagooner
1967 Licoln Continental Hardtop Coupé
1967 Marlin Fastback Hardtop
1967 Mercury Cougar
1967 Oldsmobile Cutlass Supreme Holiday
1967 Oldsmobile Delta 88 Hardtop Sedan
1967 Oldsmobile Toronado
1967 Plymouth Barracuda Formula GX 'Idea Car'
1967 Plymouth Valiant Signet
1967 Pontiac Firebird
1967 Pontiac GTO Cabriolet
1967 Pontiac Le Mans
1967 Rambler Rebel 770 Station Wagon
1967 Rambler Renault Rebel
1968 Ambassador SST Sedan
1968 AMX II
1968 AMX SST Sedan
1968 Buick Electra 225 2-door Hardtop
1968 Buick Skylark Custom
1968 Cadillac de Ville Convertible
1968 Cadillac Fleetwood Brougham
1968 Chevrolet Caprice Coupé
1968 Chevrolet Chevy II Nova Coupé
1968 Chevrolet Corvette Stingray
1968 Chrysler 300
1968 Dodge Charger III
1968 Dodge Charger III
1968 Dodge Coronet
1968 Dodge Polara
1968 Ford Fairlane Torino GT Fastback
1968 Ford Falcon Futura Sports Coupé
1968 Ford LTD Hardtop
1968 Imperial Crown Hardtop Sedan
1968 Javelin SST
1968 Kaiser Jeep Gladiator
1968 Lincoln Continental Mk III
1968 Lincoln Continental MK III Coupé
1968 Mercury Cyclone GT Hardtop
1968 Mercury Montego MX
1968 Oldsmobile 442 Coupé Fastback
1968 Oldsmobile Cutlass
1968 Plymouth Barracuda S
1968 Plymouth Fury III
1968 Pontiac Bonneville Convertible
1968 Pontiac Le Mans 4-door Hardtop
1968 Rambler American 440 Station Wagon
1968 Rambler Rogue Hardtop
1969 Ambassador SST 4-door Sedan
1969 Ambassador SST Station Wagon
1969 AMX Hardtop Fastback Coupé
1969 Avanti II
1969 Buick Riviera
1969 Buick Skylark Custom Convertible
1969 Buick Wildcat Custom V8 Hardtop Coupé
1969 Cadillac de Ville Convertible
1969 Cadillac Fleetwood Eldorado
1969 Chevrolet Camaro 'RS' Convertible
1969 Chevrolet Chevelle Malibu 350
1969 Chevrolet Corvair Monza
1969 Chrysler 300 Hardtop
1969 Dodge Charger
1969 Dodge Dart Swinger
1969 Dodge Monaco Sedan Hardtop
1969 Ford Fairlane Torino
1969 Ford Mustang
1969 Ford Thunderbird Landau
1969 Imperial Le Baron Hardtop Sedan
1969 Javelin SST
1969 Lincoln Continental MK III
1969 Lincoln Continental Sedan
1969 Mercury Brougham 4-door Hardtop
1969 Mercury Comet Sports Coupé
1969 Mercury Cougar Convertible
1969 Oldsmobile Cutlass Sedan
1969 Oldsmobile Ninety-Eight
1969 Oldsmobile Toronado
1969 Plymouth Barracuda
1969 Plymouth GTX
1969 Plymouth Valiant Signet Sedan
1969 Pontiac Grand Prix Coupé
1969 Pontiac Le Mans 4-door Hardtop
1969 Pontiac Steam Car
1969 Rambler 440 Sedan
1969 Rambler Rogue 2-door Hardtop
1969 Rebel 2-door Hardtop
1969 Rebel 4-door Sedan
1969 Rebel SST 2-door Hardtop