Being the magpie I am for things that interest me, I have recently started picking up old copies of various car magazines that were released in the UK; Auto Car, Motor, Auto Express etc.
I usually dip in and out of them, reading this article and that road test; but one thing I didn't realise these magazines would contain is the extensive listings for used cars in the back. For some issues this makes up a good percentage of the thickness of the magazine, providing an insight into the used car market at the time of publication.
I thought it could be interesting to take this data from these magazines, bring it into the modern digital age of information (or simply the internet) and compare the selection and prices to what is available at the moment on the UK market.
I understand that with most of these posts we will be taking what were once ordinary cars and comparing them against classic car prices, but it will be interesting to see how much these cars have depreciated, or in some cases appreciated, in value. Also who doesn't want any excuse to go car shopping, eh?
The Source
The source of the data for this post comes from a 1972 issue of Auto Car from the 11th May. This magazine has 104 pages and had a cover price of 12 ½ pence. The cover stories for this issue were:
Autoproject – An Aston Martin for £5,000
Used car test: Jaguar XJ6
Autocare: SU carburettors
Better Driving Part Two (which has a Utopian photograph of a motorway in the 1970s, where is all the static traffic and average speed zones!)
Road Test of the Datsun 240C
Road Test of the Hillman Hunter GLS
The used car listings stretch from page 66 to page 91 with the odd "dealer" graphic advert.
For this post we will concern ourselves with the listings under the heading ALFA ROMEO.
The Table Explained
OK so I like to try and keep these tables pretty simple.
Model this is the model of the car including its trim level/displacement if stated. Back in the days of classified ads you'd normally pay per word or generally have a word limit, meaning some dealers would omit parts of the model name so that they could advertise features such as radio, service history or sun roofs
Year this is the year of registration stated in the magazine. It doesn't always directly equal the year of manufacture, however it is odd for this to be wildly out. Some dealers would simply refer to the car by the last or first letter of its registration – common nomenclature for the selling of cars in the UK even today, however instead of referring to something as an "F reg" you'd normally now say "56 plate" instead. This behaviour of simply referring to a vehicles age by its registration letter seemed smart between 1963 (A) – however in 1983 when the DVLA (then DVLC) ran out of letters they started at the beginning again but simply moved the letter from the end of the registration number to the front. This however meant that "F reg" could be applied to a car from  1967/1968 or 1988.
Notes in this field I will list any interesting points the advert lists such as mileage, colour, interior colour and features
1972 Price the price listed (ONO or set price) in the advertisement. If the price is set in the table as "Offers" then this is because the dealer selling the vehicle has not listed a price, and is usually fishing for interest or hoping the punter will give him a price that he is comfortable with; not very helpful for our research but included to demonstrate the selection available at the time.
1972 Price Adjusted is the 1972 list price but adjusted for inflation in 2017 (the latest year available using the Bank of England Inflation Calculator). This is not the value of the car in 2018/19, nor the average price on the classic car market. It is however useful to gauge price difference (deprecation/appreciation) to the current market in 2018/19. The calculated cost is rounded to the nearest £10.
The Listings
Model
Year
Notes
1972 Price
1972 Price Adjusted
Giulia 1600
1964
£350
£4,390
Giulia GTC Convertible
1966
13,000 miles
Offers
—
Giulia 1300 Ti
1969
bluette
red trim
push button radio
new tyres
£900
£11,290
1750 GTV
1970
white
black interior
sun roof
radio
heated rear window
17,000 miles
£1,795
£22,520
1750
1969
white
black interior
radio
21,000 miles
£1,195
£14,990
Spider Veloce 1950
1968
cream
£1,295
£16,230
Giulia 1600 Super
1968
white with black trim
radio
£725
£9,100
Giulia 1600 Super
1967
red, black upholstery
£650
£8,150
GTV 1750
1969
29,000 miles
£1,495
£18,750
1750 Saloon
1970
white
red trim
9,950 miles
£1,575
£19,760
1750 GTV
1970
white
black interior
21,000 miles
Webasto roof
radio
£1,595
£20,000
Sprint GTV Coupe
1967/68 (F)
£815
£10,220
1750
1970
beige with tan trim
£1,175
£14,740
1300 GT
1968
ochre
radio
heated rear window
Webasto roof
special wheels
35,700 miles
£1,095
£13,740
1750 GTV Coupe
1969
dark blue
black upholstery
sunroof
radio
28,000 miles
£1,525
£19,130
1750 GTV
1970
maroon
heated rear window
radio
twin speakers
£1,795
£22,520
1300 Giulia GT
1971
12,000 miles
radio
heated rear window
superb white with black trim
£1,575
£19,760
1750 Veloce fixed-head coupe
1968
British racing green
25,665 miles
full service history
£1,465
£18,380
With this data we can see that most of the cars for sale in this period are variants on the Alfa Romeo Giulia model. We have 6 models listed as being part of the Giulia family, one of which being a convertible edition, along with 11 listed as being part of the sportier GTV model series. Alfa Romeo were a marque who were wonderful at releasing variants of their models with different names, causing a lot of confusion as can be demonstrated here. The Giulia models are easy to spot due to having the Giulia name plate included, however the GTV model count includes the listings for just "1750" and the "1750 Veloce". We can assume the listing for a "Spider Veloce 1950" is a mistake, which is meant to read "1750 Spider Veloce". This leaves us with just one listing unaccounted for, the "1300 GT" which we could assume refers to the GT 1300 Junior model line.
To break this down, we have three models listed for sale:
Alfa Romeo Giulia with an average adjusted price of £10,538
Alfa Romeo GTV (of Giulia origin) with an average adjusted price of £17,931
Alfa Romeo GT 1300 Junior with an average price of 13,740
It is often rare to see cars in these used pages that exceed 10 years of age, so concerning Alfa Romeo's car line up between 1962 and 1972 the listings only cover a small amount of the marque's complete line up of that period.
2018 Listings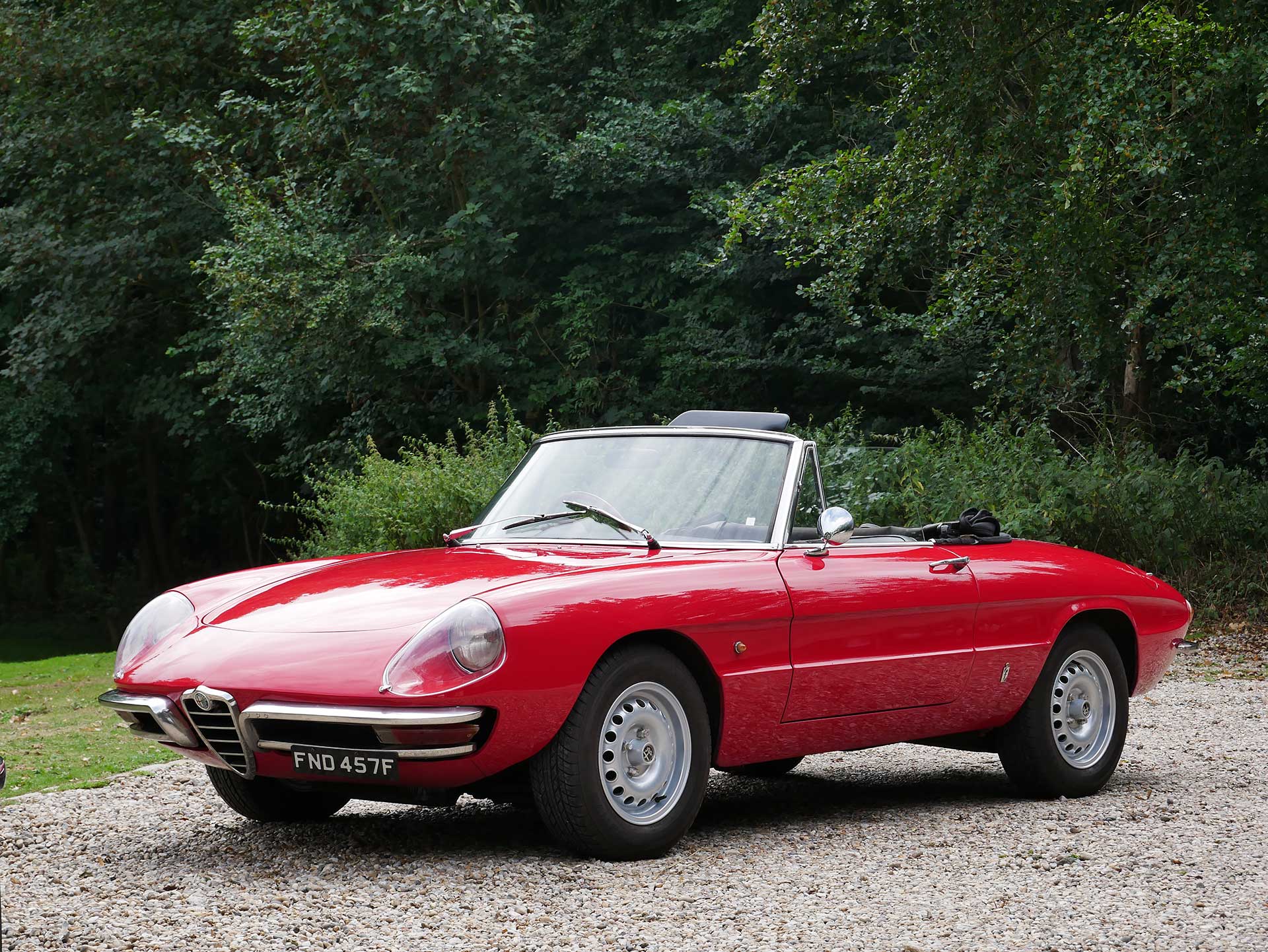 Bringing ourselves into the current day we shall first begin our search at eBay Motors UK Classic Car selection.
Straight off the bat we have a beautiful example of a 1968 Alfa Romeo 1750 Spider Veloce in a beautiful red colour with 90,000 miles on the clock. Not an original UK model however, as the seller states it was imported from South Africa to the Republic of Ireland, to then be reimported into the UK around 2014. The car has however been lovingly restored with a few modifications such as fast road cams, electronic ignition from MSD and a performance air filter. This example sports replica "GTA style" wheels by Alfaholics and has had an interior re-trim in a period correct black. The listing price for this example is £34,995 – which works out to be a price increase of around 73%.
See archived listing PDF here.
---
Looking through the rest of the listings there are a few more examples from the period that our data set concerns; however there are no perfect matches. Moving onto another classic car listings website, Cars and Classic, we find a slightly larger pool of cars from the era.
One example of interest would be this listing for a 1968 Alfa Romeo 1750 GT Veloce in white (Bianco Spino) with black interior (Skai Nero). It is another import, this time from Bahrain, however the history of the car has been lost to time. It has 97,340 miles on the clock and appears to be in beautiful condition. The current dealer is asking £34,995 for the car, which makes for a 62% appreciation on the listing from our magazine for the comparable "1750 Veloce fixed-head coupe".
See archived PDF listing here.
---
Keeping within the confines of Car and Classic we come to another close match listing for this 1969 Alfa Romeo 1750 GTV, a year off our listings for the 1970 model. This car is being offered by dealer, Cars of Extinction, and carries its original white paintwork with black (Nero) interior. The listing includes a photograph of an extensive amount of documents to serve as a diary of the cars life over the last 50 years. The listing doesn't mention the mileage of the vehicle, nor does it mention if any parts of the car have been restored – so we can assume this is a genuine original example. The asking price for this example is £49,950 making it the most expensive example so far. Comparing the figures to the 1970 listings, we are looking at an appreciation of 85% on £20,000 or 75% on £22,520. Big numbers for sure.
See archived PDF listing here.
---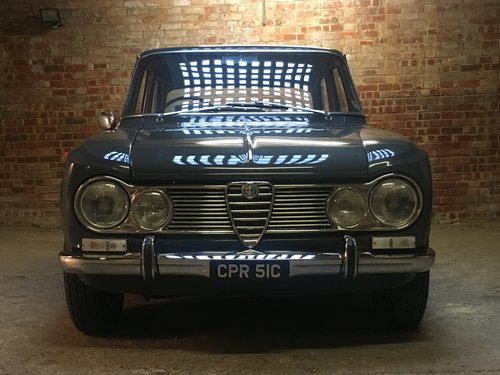 Although there are many listings in the period of concern on Car & Classic at the time of writing, there are few direct or close matches to our original set of listings. However there is one listing for a 1965 Alfa Giulia 1600 Ti which we could match to the first listing in our data set, the 1964 Giulia 1600.
This example being sold by a restoration company, Ian Ellis Classic Alfas, is reported to have 55,000 miles on the odometer with only just two previous owners. The car has been restored after being found in a barn in Oxfordshire in around 2010. The car has undergone a colour change from Verde Muschio to Grigio Grafite (graphite grey), however the tan interior trim is said to to be original. As you would expect from a restoration company such as Ian Ellis, the car has been subject to a full engine rebuild with a few retso-mods along the way including changing the Solex carburettor to a single Weber model. The car also sports its original 15″ rims (refurbished) and is fitted with period correct tyres. The asking price for this car is £50,000 which beats the previous example, the 1969 Alfa Romeo 1750 GTV, by £5,000. Working on the matched listing's adjusted price of £4,390, the £50,000 asking price in 2018 means a 167% appreciation in value.
See archived PDF listing here.
Summary
It is no surprise to me that cars as beautiful as those manufactured by Alfa Romeo from this period are asking such high prices these days. It would be interesting to see how the later models, the models I am more familiar with, from the 1990s and early 2000s fare in the coming decades – for at the moment these models are asking the rock bottom prices that go even lower than those seen in the magazine listings.
I can't deny I'd love to own any one of these beautiful cars, however I think I'd never want to take it out of the garage unless I could somehow convince everyone else to avoid the roads I was using.
I hope you enjoyed this little brief look into the past. I hope to proceed to do more posts like this throughout the year – they won't all be focused on this period, nor will they always be about Alfa's. I have plenty of magazines with thousands of listings available.